Persepsi Taruna Dan Dosen Terhadap Pembelajaran Jarak Jauh Metode Daring
Nursyam

Politeknik Pelayaran Barombong

Oktavera Sulistiana

Politeknik Pelayaran Barombong

Sarce Sampe Bungin

Politeknik Pelayaran Barombong
Keywords:
First keyword, Second keyword, Third keyword
Abstract
The purpose of this study was to determine the perceptions of cadets and lecturers' perceptions of distance learning online methods at the Barombong Shipping Polytechnic. Distance Education (PJJ) is conceptually seen from two aspects, namely the institutional aspect and the personal aspect. The existence of the covid outbreak that has hit our country in Indonesia requires us to do distance learning using online methods. This study uses a qualitative approach. Bogdan and Taylor in Moleong, describe, qualitative research is research that produces descriptive data in the form of written or spoken words from people and observable behavior. The data analysis technique was based on the research objective, namely knowing the cadets' perception of distance learning at the Barombong Shipping Polytechnic. Therefore, the data analysis technique used was descriptive analysis. Data collection techniques were carried out using questionnaires and documentation. The results showed that cadets' perceptions of distance learning online methods were seen from several aspects, namely, aspects of the availability of IT and support, aspects of lecturers, aspects of the ability to use IT, aspects of ease of understanding subject matter and aspects of cadets' motivation to learn through online learning. positive. Lecturers/instructors' perceptions of distance learning online methods when viewed from several aspects including, aspects of the preparation carried out by the institution, the activity of cadets, the ability to make On-line-based learning materials and the ability to use IT, indicate that the perception is positive although there are still some aspects which needs to be fixed
References
Agus, P. E., & Ratih, S. D. (2011). Metodologi Penelitian Kuantitatif. Gava Media. Jogjakarta.
Anggaira, A. S., Pd10, M., & Metro, I. (2020). PEMBELAJARAN TEACHING MEDIA DENGAN PROJECT-BASED LEARNING MODEL VIA ONLINE. Antologi.
Anggito, A., & Setiawan, J. (2018). Metodologi penelitian kualitatif. CV Jejak (Jejak Publisher).
Budiman, H. (2016). Penggunaan Media Visual dalam Proses Pembelajaran. Al-Tadzkiyyah: Jurnal Pendidikan Islam, 7(2), 171–182.
Darmawan, D. (2011). SIM Berbasis ICT dalam Mengembangkan Digital Library. Edulib, 1(1).
DR Desy, M., & Isnawijayani, I. (2016). Modul METODE PENELITIAN SOSIAL.
Eviyanti, A., Safitri, E. N. O., Adelefano, M. R., Maulidia, J., Zubaida, R., Yuli, A. D., … Anjayani, D. P. (n.d.). UMSIDA Press.
Hariani, P. P., & Wastuti, S. N. Y. (2020). Pemanfaatan e-learning pada pembelajaran jarak jauh di masa pandemi covid-19. Biblio Couns: Jurnal Kajian Konseling Dan Pendidikan, 3(2), 41–49.
Khan, B. H. (2005). Managing e-learning: Design, delivery, implementation, and evaluation. IGI Global.
Loftus, J. (2001). America's liberalization in attitudes toward homosexuality, 1973 to 1998. American Sociological Review, 762–782.
Maimunah, N. (n.d.). Pengembangan Media Pembelajaran dengan Aplikasi Mindjet MindManager Version 9 pada Kompetensi Dasar Mendiskripsikan Konsep Koperasi dan Pengelolaan Koperasi untuk Siswa Kelas X IPS di MAN 2 Jember.
Malik, K. (2014). Human development report 2014: Sustaining human progress: Reducing vulnerabilities and building resilience. United Nations Development Programme, New York.
Nazir, M. (1988). MetodePenelitian. Jakarta: Ghalia Indonesia.
Nugroho, E. (2018). Prinsip-prinsip Menyusun Kuesioner. Universitas Brawijaya Press.
Priatna, T. (2019). Disrupsi Pengembangan Sumber Daya Manusia Dunia Pendidikan di Era Revolusi Industri 4.0. Pusat Penelitian dan Penerbitan UIN Sunan Gunung Djati.
Priyanto, A., & Ag, M. (2020). PEMBELAJARAN DARING. Penerapan Adaptasi Kebiasaan Baru Pada Era Pandemi Virus Corona 19 Di Berbagai Sektor Pendidikan, 41.
Pujihastuti, I. (2010). Prinsip penulisan kuesioner penelitian. CEFARS: Jurnal Agribisnis Dan Pengembangan Wilayah, 2(1), 43–56.
Rabbani, N. (2021). Inovasi Pengabdian dan pemberdayaan di tengah Pandemi Covid 19. LP2M UIN SGD Bandung.
Rukin, S. P. (2019). Metodologi Penelitian Kualitatif. Yayasan Ahmar Cendekia Indonesia.
Sadikin, A., & Hamidah, A. (2020). Pembelajaran Daring Di Tengah Wabah Covid-19 (Online Learning in the Middle of the Covid-19 Pandemic). Biodik, 6(2), 214–224.
Sadikin, A., Johari, A., & Suryani, L. (2020). Pengembangan multimedia interaktif biologi berbasis website dalam menghadapi revolusi industri 4.0. Edubiotik: Jurnal Pendidikan, Biologi Dan Terapan, 5(01), 18–28.
SARI, E. F. I. M. (n.d.). PENGARUH PENGGUNAAN SMARTPHONE TERHADAP MINAT DAN HASIL BELAJAR SISWA SMK SWASTA BINA TARUNA 2 MEDAN TAHUN PELAJARAN 2018/2019.
Syarifuddin, M. (2020). Transformasi Gigital Persidangan di Era New Normal: melayani Pencari Keadilan di masa Pandemi Covid-19.
Tristanti, T., Almuzani, N., & Suhartini, S. (2018). Perkembangan Prestasi Akademik Taruna Dan Faktor-Faktor Yang Mempengaruhinya. Meteor STIP Marunda, 11(1), 1–9.
Wahyudi, D., & Suheri, S. (2020). Implementation and Evaluation of Digial Literacy: Strategies to Increase Reading Interest Basic level students. International Journal of High Education Scientists (IJHES), 1(1), 1–15.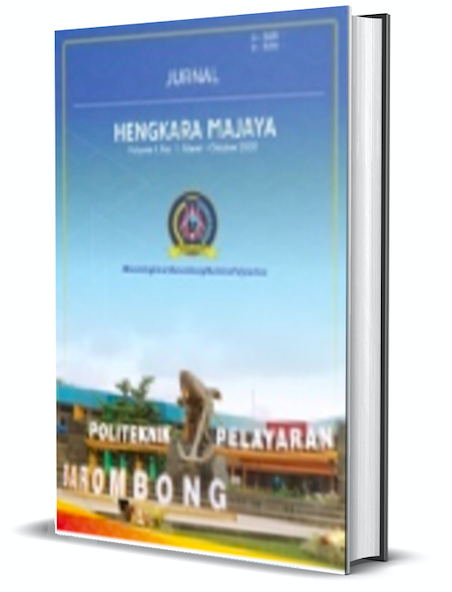 Copyright (c) 2022 Hengkara Majaya Journal
This work is licensed under a Creative Commons Attribution 4.0 International License.