Pengereman Dinamik Motor DC Hoist Pada Pengoperasian Container Crane
Rukmini

Politeknik Pelayaran Barombong

Mochamad Abduh

Politeknik Pelayaran Barombong
Keywords:
Container Crane, Pengereman Dinamik, motor hoist
Abstract
Container crane sebagai peralatan bongkar muat pada terminal peti kemas menggunakan motor listrik untuk mengangkat dan memindahkan peti kemas. Container crane dapat memindahkan kontainer dalam tiga gerakan dengan menggunakan motor hoist, troli, dan gantry. Motor hoist digunakan untuk menaikkan dan menurunkan kontainer, memiliki kapasitas terbesar. Pada umumnya motor main hoist adalah menggunakan motor DC, seperti hal nya yang bekerja pada tujuh (7) buah CC terminal peti kemas Makassar. Saat siklus menurunkan beban (container) oleh motor main hoist, dibutuhkan suatu proses pengereman baik secara elektrik dan mekanik. Pada penelitian ini, dimodelkan karakteristik pengereman dinamik (yang menggunakan beban resistif) motor hoist CC. Pengereman listrik dengan menghubungkan output listrik melalui motor DC arus dinamo motor berubah menjadi generator untuk menuju bank resistor (arus dalam kumparan dinamo motor DC akan terbentuk pada bidang kumparan emf yang akan memperlambat putaran motor yang telah berubah menjadi generator). Pengereman mekanik adalah dengan mengunci disc brake. Dari hasil analisis diperoleh kesimpulan bahwa ada pengereman dinamik (resistif), arus listrik mengalir menuju resistor membuat tegangan armatur yang dihasilkan oleh motor yang telah berubah fungsi menjadi generator akan berkurang karena adanya jatuh tegangan pada resistor yang digunakan untuk pengereman.
References
http://ijera.com/pages/v5no3(v4).html. ISSN : 2248-9622, Vol. 5, Issue 3, ( Part -4) March 2015, pp.29-34.
Aravind Samba Murthy, Analysis of regenerative braking in electric machines, thesis, School of Electrical and Computer Engineering, Georgia Institute of Technology, May 2013.
Austin Hughes, Electric Motors and Drives, Fundamentals, Types and Applications, Third edition, Newnes is an imprint of Elsevier, Third edition 2006.
Dubey, G. K., Fundamentals of Electrical Drives. Alpha Science International, Ltd., 2002
Eloy Pedro Sánchez Caton, Dynamic braking a new approach for testing electrical machines, Division of Industrial Electrical Engineering and Automation, Faculty of Engineering, Lund University CODEN:LUTEDX/(TEIE-5292)/1 65/(2012).
Guoqiang Chen and Xianguang Shang, Simulation used in education for a separately excited DC motor, Henan Polytechnic University , Jiaozuo City, People's Republic of China, World Transactions on Engineering and Technology Education2014 WIETE Vol.12, No.1, 2014.
Hadi sutanto saragi, yuningtyastuti, sistem operasi container crane (cc) di terminal peti kemas semarang
Lesson 39, D.C Motors. Version 2 EE IIT, Kharagpur
Lynn Vanheule, et al; Creating a sustainable harbour making use of regenerative braking and renewable energy sources.
M. Flynn, P. McMullen, Solis, High-speed flywheel and motor drive operation for energy recovery in a mobile gantry crane, Center for Electro mechanics, University of Texas, VYCON, Inc. 12880 Moore Street, Cerritos, CA 90703, O. Solis. VYCON, Inc. 12880 Moore Street , Cerritos, CA 90703.
Mark M. Flynn, Patrick Mcmullen, & Octavio Solis, "Energy recovery and emission cutting in a mobile gantry crane," IEEE Industry Applications Magazine Nov / Dec 2008.
Pedoman Efisiensi Energi untuk Industri di Asia – www.energyefficiencyasia.org.
Peralatan Energi Listrik: Motor Listrik http://www.electrical knowhow.com/2012/05/classification-of-electric-motors.html
Rukmini et al, Forward And Reverse Motoring Of Dc Hoist Motor On Container Crane (CC) Operation, International Journal Of Engineering Research And Applications (IJERA.)
Saanen, Y., Johnson, D. and de Waal, A, "How simulation modeling can support environmental initiatives at container terminals," In : Port Technology International, pp. 66–69, 2006.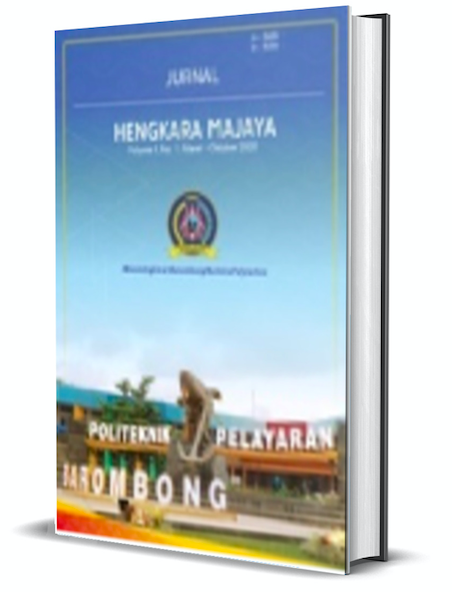 Copyright (c) 2022 Hengkara Majaya
This work is licensed under a Creative Commons Attribution 4.0 International License.